HISTORY OF NEW LIFE CHURCH
"In the year 2010,  an eager group of faithful U.S. military personnel along with their families stationed in Vicenza, Italy began meeting together for worship. Very quickly a committed local church was formed. The church, originally called Trinity Church and was a part of the International Presbyterian Church. God used this initial group of faithful believers to lay and build a solid foundation for the future.
Fast forward to 2020, God has since led our local body to be renamed New Life Church, Vicenza in 2018. New Life Church would then fall under the faithful stewardship of the Presbyterian Church of America (PCA). Ever since then, God's amazing grace has truly manifested itself yet again in the faithful preaching of his word, rich bible studies, children's ministry, a new dedicated Pastor, sound doctrine, committed leadership, discipleship, fellowship, conversions, and baptisms.  We continue to grow in the grace of our Lord to be better equipped to serve the church, community, and Christ."
OUR PASTOR 
Pastor Frank Eillis grew up in a Christian family in Montgomery, Alabama. Frank worked as a pharmacist since 1984, and was called to the ministry in 2005. After graduating from Covenant Theological Seminary, he became the pastor of Ozark Presbyterian Church in 2012.
In 2019, at the October meeting of the Southeast Alabama Presbytery, Frank learned of the coming need for a pastor at New Life Church in Vicenza, Italy. New Life is one of the churches of Ministry to the Military & Internationals, a mission work of Southeast Alabama Presbytery. In January 2020, the prayers of many were answered when the Presbytery approved the call for him to undertake the ministry at Vicenza. Frank is currently raising funds and pursuing a visa in order to relocate to Italy.
In 1993, Frank married his lovely wife Joan, who is also from Culman County, Alabama. They have 2 adult children.
Denomination and Oversight:
New Life is affiliated with the Presbyterian Church in America (PCA). Our church falls under the oversight of the Philadelphia Metro West Presbytery, with Olive Street Presbyterian Church serving as its provisional Session (board of elders).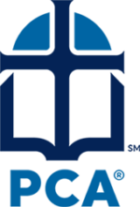 What is the PCA? Check out this great video explaining what God has done and continues to do through the PCA. 
What/who is the PCA? Use this video on your church website or anywhere else that is appropriate (e.g., share it on Facebook). I purposefully did not place my church's website information at the end so that others can use it. Thank you to all the participants in this video.

Posted by Leon Brown on Sunday, June 18, 2017
We are also affiliated with Ministry to the Military & Internationals, a PCA ministry that helps facilitates the planting of PCA churches near U.S. military installations overseas so that military personnel and American expats have access to a gospel preaching church rooted in the confessional faith of the Protestant Reformation.
Our Invitation!
We extend a warm invitation to you to come worship with us! We meet every Sunday morning for Sunday School (adults and children) at 9:30am, and worship service at 10:30am. Our address is Via Robert Baden Powell, 6, 36030 Motta VI, Italy.